April 4th, 2017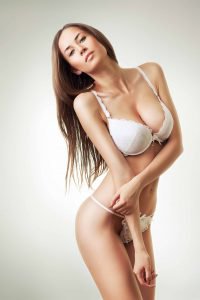 After you call, the next step is to schedule your first consultation. During this preliminary meeting with Dr. Hall, you'll get to discuss what you want from the procedure and what your goals are. Dr. Hall will spend as much time as you need answering questions, talking about your concerns, and even looking at pictures of your "ideal" breasts. Dr. Hall will also perform an examination and then start to formulate his recommendation for your customized treatment plan. If you're ready to work with one of the top plastic surgeons in Tennessee, then make sure you contact us today to get started. Also, be sure to look at our terrific gallery of breast augmentation results to see the kind of gorgeous, natural-looking results that our Knoxville breast implant patients get.
Choosing the Right Size Breast Implants
Women have their work cut out for them when they decide to get a breast augmentation. There are a whole host of different considerations and decisions that need to get sorted out even before your first appointment. On top of that, many of our patients feel tremendous pressure to "make the right choice." One of the most difficult and time-consuming decisions is choosing the size of implant to get. Of course, Dr. Hall will discuss your choice with you in great detail and also let you try on some breast implant sizers so you can get a "feel" of how different sizes will look. Here are 3 tips that will help you choose which size of breast implant is right for you.
#1 All About Proportions
No matter what your goals are for the procedure, you'll want to consider how your breasts will look on your specific body type and body size. Women with larger bodies typically will need larger implants for the "difference" to be apparent. However, some smaller women want the "look" of having larger breasts. Whatever your goals are for the procedure, considering how they will impact the proportions of your body is critical.
#2 Your Lifestyle and Breast Implants
Women also need to consider how their new implants will impact their daily life. If you enjoy lots of outdoor activities or vigorous exercise, you should think about how larger breasts may factor into that.
#3 Future Pregnancy and Breastfeeding
If you're hoping to bear children and breastfeed in the future, then you may also want to think about how that could be affected by breast implants. Moms know exactly how hard pregnancy can be on their bodies-and on their breasts in particular. Many women's breasts change significantly during pregnancy, and this can cause the need for revision surgery later.
The best thing to do is do your own research before and get a good idea of the general size you'd like. During your consultation with Dr. Hall make sure that you speak honestly and openly with him about your goals for the procedure and the look you want to achieve.
Contact our Plastic Sugeons in Knoxville today at (865) 973-9500 to learn more.