September 26th, 2016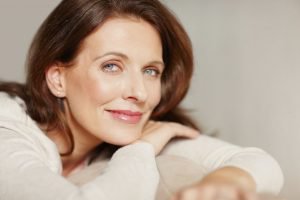 Concerns with Eyelid and Under-Eye Appearance
Do you wake up ready to face the world full of energy, and yet when you look in the mirror all you see is a face overshadowed by fatigue? If so, you aren't alone - this is a common problem for people with sagging or drooping eyelids or fatty deposits and dark circles under the eyes.
There are different treatment options for your eyelid and under-eye area; some are surgical and others are non-surgical. All of these treatments can help reduce the appearance of puffiness, bags, excess skin, drooping eyelids, and dark circles in some way, but not all treatment options are created equal, and not all will provide lasting results. So which option is right for you?
Non-Surgical Eyelid Treatments
We understand that, for many people, surgery is not generally their first choice when attempting to restore a more youthful appearance to their eyes. There are an almost unlimited number of creams, serums, and other treatments available. You've no doubt seen commercials, infomercials, and celebrity endorsements for a number of different products. There's certainly no harm in trying a less invasive treatment first. However, while eye creams, chemical peels, lasers, and injectable fillers can each help correct the appearance of dark circles or bags under the eyes, the results of each can vary greatly depending on your specific condition. For example, it can take months for a cream or serum to show results, and fillers will last anywhere between 6 and 18 months, depending on the type of filler used and where it is placed. If you're looking for longer-lasting results, blepharoplasty may be a better choice.
Eyelid Surgery
Blepharoplasty is a procedure which can not only restore a more youthful appearance with fat removal and skin tightening under the eyes, but it is one of the only ways to correct any sagging or drooping of the upper eyelid.
Eyelid surgery patients can expect results that last ten to fifteen years or longer, and technically, blepharoplasty can be considered a permanent solution. Aging can also cause the brow to drop, creating or worsening sagging skin on the upper eyelids. This will be discussed before your blepharoplasty surgery, and may mean that a brow lift will need to be added to optimize your results.
Choosing Dr. Hall for your Eyelid Surgery
Have you tried over the counter non-surgical treatments with minimal improvement? Perhaps you've tried fillers as well, but you've never been able to achieve the long-lasting results you want. If so, don't just resign yourself to living with the problem - contact Knoxville eyelid surgery expert Dr. Jason Hall today.
Dr. Hall is board-certified and has a proven track record of satisfied blepharoplasty patients with long-lasting results.
Contact eyelid surgery expert, Dr. Jason J. Hall, to schedule your blepharoplasty consultation today at at (865) 973-9500!