September 13th, 2018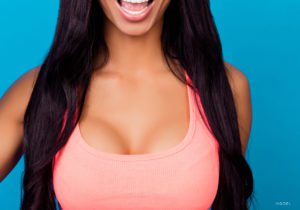 1. Silicone or Saline Breast Implants?
There are two types of breast implants that are FDA approved for breast enhancement surgery: silicone and saline. Both offer a unique set of benefits. By far, most women choose silicone breast implants because they feel more natural to the touch.
2. How Big Do You Want to Go?
When women come to Dr. Hall for a breast enhancement consultation, one questions they'll definitely be asked is how big they want their augmented breasts to be. To answer this question, it's best to avoid terms that can be subjective, such as cup size, which varies from bra manufacturer to bra manufacturer. Instead, Dr. Hall recommends you bring in photos and magazine clipping showing women with your ideal breast size, so he can get a real feel for what you would like your results to look like.
3 .Breast Implant Shape?
Breast implants come in two shapes: teardrop or round. While teardrop shaped implants look more natural, they come with the risk of inadvertently rotating and causing your breasts to look malformed. Since rounded implants are circularly shaped, you have no aesthetic risks if the implants rotate, which is why they are a popular choice amongst women. However, both options offer outstanding results in the properly chosen patient.
4. What Breast Implant Profile Is Right for You?
Here's a big consideration for your breast enhancement surgery, one that many women haven't even thought of before. What breast implant profile do you want? For those who aren't aware, the breast implant profile refers to how much the implant sticks out from the chest wall. The higher the profile, the larger the augmented breasts appear. Again, photos and magazine clippings of your ideal breast look help Dr. Hall make an informed recommendation on which profile you should choose.
Getting Help Making Informed Decisions
Not only does Dr. Hall consider it his job to provide you with a safe surgery that provides you the aesthetic results you desire, but he also highly prioritizes educating you on your breast enhancement choices and helps you make decisions for your unique surgery goals. That's why he spends so much time with his potential breast augmentation candidates during their consultation appointment educating them on the procedure and their breast implant choices to help ensure they'll be happy with the decisions they've made.
If you're ready to take the next step and get a breast augmentation consultation, we highly recommend you call Dr. Hall's offices to set up this initial Knoxville Plastic Surgery appointment. You can do so today by calling (865) 973-9500.