April 14th, 2015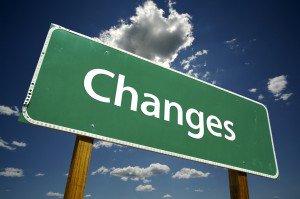 plas-tic ('plas-tik) adj. 1. capable of adapting to varying conditions 2. able to be shaped or molded
However, our bodies and our minds are wired to resist change - it is uncomfortable, it makes us hurt, and it disrupts our sense of the "status quo." Importantly, though, this same thing that makes us uncomfortable and hurts is also crucial for our growth. We spend long hours studying to gain knowledge. We devote months and years of practice to improve at our favorite sport. We spend years learning to play a musical instrument. However, change can be scary. It is stepping into the unknown, taking a "leap of faith", enduring pain, and risking failure.
The art of living a fulfilled life is to learn to embrace the change that is so much a part of everything we do, and not to resist the changing world around us. We must learn to "enjoy the journey,"as the old saying goes.
It has taken me many years to learn this lesson; to be able to view discomfort not as something to avoid but something to cherish for the improvement it enables. Although it is a skill that I am still learning, my life is much better for it. Learning these lessons doesn't make it any easier, though. Anytime change, especially a big change, looms, uncertainty and fear accompany it. What I have learned, though, is that what matters most is that when the time comes to confront change that you choose to step into the void instead of retreating to the comfort of your sofa.
All that being said, opening a practice of my own has been a dream of mine since I started down the path leading to medical school almost 25 years ago.
In May of this year, that dream will become a reality.
Each and every one of you helped make this dream possible - the friends and family who have offered support and encouragement along the way, the medical colleagues across the country and around the world who have sought my assistance, and the patients who have allowed me to take part in their care. Without all of your support, advice, and, most importantly, your trust, this next chapter in my life would not be possible. So to all of you, a sincere Thank You.
We are leaving a state that I have called home for over a decade and love dearly for one that truly is my home. My family and I have cherished our time in Texas and leave good friends and family here. However, we are excited to be moving to East Tennessee for the abundant lifestyle and practice opportunities there. If you've never visited, I encourage it. Be warned, though, that if you come to visit, you may never want to leave.
I am leaving a practice in Houston to build a practice of my own. However, I will not be gone permanently. There are many exciting changes happening at Houston Plastic & Craniofacial Surgery in 2015, including the construction of our new office, slated to open this winter. I will continue to be involved with the practice in Texas, but only on an intermittent basis. The robust online consultation program that I have begun will continue, and no matter where in the world you are, I will be just as easily accessible as before. For in-person consultations, patients will now have the option to see me at my office in Tennessee or, on a limited basis, at my office in Houston. For those of you in Houston, my friend and partner, Dr. Sean Boutros, will continue to provide the same quality care that you expect, and our new associate, Dr. Erika Sato, will also be available for you.
Thursday, April 23, 2015 will be my last day seeing patients in Houston for a few months while my family and I relocate to our new home in Knoxville, TN. My new office will be open for patients in late May, with a formal grand opening sometime in June.
The contact information for the new Knoxville Plastic Surgery practice is:
Jason J. Hall, MD
Knoxville Plastic & Craniofacial Surgery
9239 Park West Boulevard
Suite 202
Knoxville, TN 37923
Phone: (865) 973-9500
drjasonhall.com
As my family and I start this new chapter in our lives and step into the proverbial void, I want to again send a heartfelt "Thank You" to all of you who have helped grow my practice to what it is today, and for helping to make my dream a reality.