August 2nd, 2019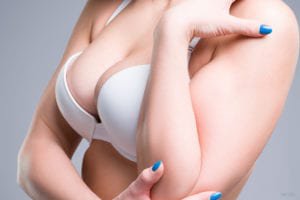 Profiles For Breast Implants
When women talk about breast implant size, they are often thinking about bra size. However, these two things do not go hand in hand - mainly because bra sizes vary from manufacturer to manufacturer (we think every bra at Victoria's Secret sells is either a C or D cup!). So, when you visit with Dr. Hall, providing a bra size will not be very helpful. Instead, he recommends that his patients bring in pictures of women who have the look they desire for themselves. Going to our before and after gallery (link) or looking on our Instagram highlights (link) are a great place to start!
Another important part of implant size is the profile you choose for your breast implants. Again, this varies from woman to woman. The profile type of your breast implants indicates how far out you want your breasts to project from your chest wall. Dr. Hall offers women breast implants in many different profiles, such as:
Low Profile
Moderate Profile
Moderate Plus Profile
High Profile
Ultra-High Profile
Choosing a profile is not an easy thing to do for the average woman, so Dr. Hall will help you decide which profile will be best for your breast implants based on your body type and personal preferences - pictures are helpful here, too!
Shapes For Breast Implants
In addition to choosing a profile for your breast implants, Dr. Hall will also walk you through the process of choosing the best shape for your implants.
Round Breast Implants - Round breast implants, which are round in shape, as described by their name, give women fuller breasts with more "upper" cleavage. This shape is also popular because they offer the soft, round breasts many women want.
Teardrop Breast Implants - Teardrop breast implants are shaped like a teardrop and are fuller at the bottom than at the top. This shape of implant provides women with a more natural appearance and are a great choice for those who don't want to attract much attention because they don't offer as much upper cleavage as round implants do.
Call Dr. Hall To Book Your Initial Consultation Today
Hopefully, this blog has helped explain the relationship between the size and shape of breast implants. If you still have questions, or if you'd like to make an appointment at Jason J. Hall, MD, FACS, call (865) 973-9500 today to book your initial Knoxville Plastic Surgery consultation.