August 14th, 2017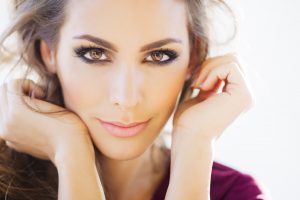 Our patients absolutely love how gentle and compassionate Dr. Hall is. Additionally, his dedication to the art and science of plastic surgery has made him one of the top-performing surgeons in the entire state. As a board-certified surgeon, Dr. Hall has mastered the precision and skill required to give our patients some of the absolute finest results you'll find anywhere. If you're hoping to work with this "rising star" in the medical field, make sure you contact us to schedule your preliminary consultation.
What is Eyelid Surgery?
Patients that have sagging skin on their eyelids almost always tell us that it's the first thing they notice about their face in the mirror. They also say it makes them look tired; it can impair their vision, and make them look older than they actually are. These issues can have a massive impact on your self-esteem, and one of the best ways to erase those drooping eyelids is with a blepharoplasty-also simply called eyelid surgery.
Men and women can treat a variety of eyelid issues with a blepharoplasty, including:
Sagging eyelid skin or folds of extra skin on the eyelids.
Fatty deposits on the upper or lower eyelids.
Bags or puffiness under the eyes.
Drooping lower eyelids.
Wrinkles on the lower eyelids.
What Is the Procedure for Eyelid Surgery?
Patients will almost always undergo the procedure in an outpatient surgical center. Surgery on the upper eyelids alone is something that can be done in our office procedure room with just local anesthesia. Regardless of where the surgery is performed, the incisions are made in the folds of the eyelid so that any scars are virtually invisible afterward. After removing the necessary skin and fat, Dr. Hall uses very fine sutures to complete the procedure.
Recovering from Eyelid Surgery
Women and men should expect their eyes to be swollen and a little uncomfortable for the first few days. Dr. Hall will prescribe pain medication and eyedrops to help with the discomfort. He'll also give you a complete regimen and postoperative plan to help you recover as quickly as possible and ensure that you get the best possible results. This regimen includes icing your eyes for the first few days and using postoperative eye drops. It may take several weeks for you to heal completely and patients should avoid wearing eye makeup during the first week to ten days.
If you're ready to freshen up your face and look younger and more well-rested, call Dr. Hall at his Knoxville Plastic Surgery practice today at (865) 973-9500. Patients that get eyelid surgery usually report an increase in self-esteem, and we would love to be part of that experience. We can't wait to hear from you!