December 16th, 2019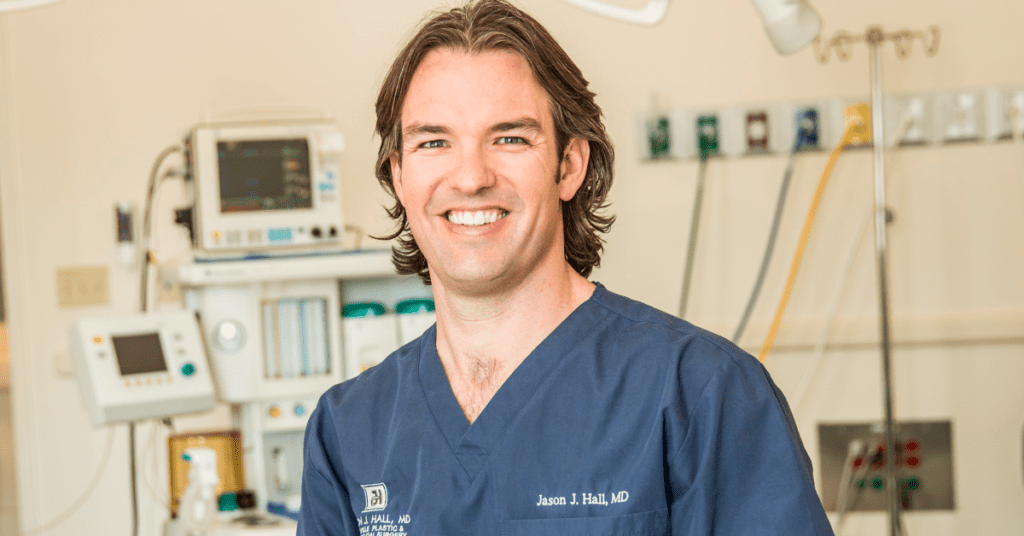 1 hour:
The time it takes to surgically repair a cleft lip
250 dollars:
How much it costs to repair a cleft lip and/or palate
170,000 children:
Number of children born annually with a
cleft lip and/or palate in third world countries
25,000 dollars:
Amount raised in 2018 by the
"For You, For All" program
38 operations:
Number of children who had life-changing
surgery on Dr. Hall's last trip to Haiti
4 days:
Length of a typical mission trip
28 grades:
The number of years Dr. Hall spent in school
training to become a plastic surgeon
Every once in awhile, usually in the quiet of the early morning hours when I'm the only person in the house that is awake, I get a chance to reflect on what it is I do every day. Those moments, sitting in the stillness (in front of the fireplace... sometimes with the AC on), it dawns on me the magnitude of what I have the privilege to do as a career.
Sure... you probably watch "Botched' (as I do occasionally - it's hysterical) and think that my job as a plastic surgeon is nothing more than a never-ending parade of Michael Jackson wannabes, Human Ken dolls, and Kardashian acolytes. If you were a fly on the wall, though, you'd see the truth. You'd see the mother of three who just doesn't feel pretty anymore after having children and wants her body back. You'd see the 20-something who has always been embarrassed by a nose that is crooked or much too large for her face. You'd see the 50-something who feels like he's 70 and wants his face and neck rejuvenated. And you'd see the scared parents of a child that was born with a birth defect that needs her skull completely reshaped. And that is all on a random Tuesday in September.
What is the Common Thread Between Each of These Patients?
This is the question that I asked myself when I began a career in plastic surgery after being fully trained and board-certified in general surgery. The answer is not the procedures, certainly. Plastic surgery is the last true "general" surgery discipline left. We operate from the head to the feet and on most body parts in between. What is the same is that for each of these patients, I am able to help improve the QUALITY of their lives. The mother of three can now go out with her husband and friends more confident in the way she looks. The rhinoplasty patient is now no longer embarrassed by her nose. And the child will not grow up teased about their appearance or be ostracized for looking different. Seeing a patient who was deformed, injured, or maimed by disease transform psychologically after surgery is a feeling that is hard to describe.
It's wonderful to be able to help change someone's life for the better and see them grow and flourish because of it. In many ways, this mirrors what happens when we give back to others - the emotional and psychological boost we get is worth more than what we give away (whether it's time, money, or service). That is certainly true with respect to mission surgery, and holds true in any form of charitable giving.
Our "For You, For All" Program
I have been traveling on international surgical missions since I was in training, and have continued traveling and giving back to this day. We believe that everyone benefits by giving back to the community - whether it's next door or across the planet. From day one, my practice was dedicated to helping fill the need for charity in our community, both by example and by inspiring others to give back themselves. Each of our employees gets extra paid time off to participate in mission work of their choosing, as well as a small stipend to offset the cost of travel.
For our patients, we created the "For You, For All" program. This program allows you to participate in global medical missions and help children who would otherwise go without the surgical treatment they need. Participation in the program is easy - by choosing to come to our practice, you automatically help without even knowing it. For every dollar you spend - on Botox, filler, skincare, lasers, and even surgery - a portion of that is donated to mission organizations that provide surgical treatment to children in developing countries. You can see evidence of these trips in the photo books in our office or by following me and my office on social media (I'm @jhallmd on Instagram and Dr. Jason Hall on Facebook).
Whether it is donating to your favorite local charity, volunteering your time at church, or traveling across the planet to help folks you've never met, please get involved. Let's all strive to leave the world a little better place than we found it. Together, we can make a difference!
For information on the or the various Knoxville plastic surgery procedures we offer at my practice, give us a call at (865) 973-9500.