November 1st, 2016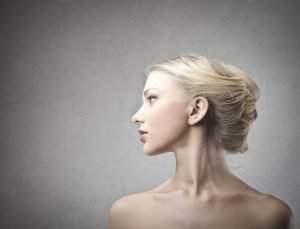 People who have this excess fat and skin on their neck, yet are otherwise fit, can be self-conscious of this additional area of fullness beneath the chin. This is called a double chin.
Correcting Excess Skin
The best way to remove excess skin creating the look of a double chin is through a neck lift. A neck lift is a surgical procedure which tightens the sagging neck muscles and removes any excess fat contributing to the look of a double chin.
Patients who require a neck lift for a double chin often have excess skin from aging or significant weight loss. Chin surgery is an additional option for patients who also need definition between the chin and neck area after a neck lift.
Removing Excess Fat
Fat removal to correct a double chin is not a substitute for weight loss and a healthy lifestyle. Candidates for neck liposuction to reduce the appearance of a double chin are generally fit but cannot get rid of the fatty deposits beneath the chin area naturally. Laser liposuction and skin tightening treatments can reduce the appearance of a double chin as well.
Additionally, a new type of treatment for removing excess chin fat has recently become available to our patients. This treatment, known as Kybella, is a minimally invasive treatment that breaks down fatty deposits under your chin so your body can dispose of them. Results are achieved through a series of injections over the course of 3-4 months, depending on the amount of fat to be removed.
Chin Surgery - Genioplasty or Chin Implants for More Definition
Even with the removal of excess skin and fat from the upper neck, you may still naturally lack definition between the chin and neck area. In cases like these, augmenting the chin using chin advancement surgery (genioplasty) or a chin implant is an excellent option.
Before your procedure, Dr. Hall will consult with you using the Vectra 3D imaging system. You will be able to see yourself as you would appear with your new chin in three dimensions. In addition to chin agumentation, you may decide to get an additional procedure to balance your facial features. Rhinoplasty, for example, is often performed with chin surgery to create the ideal proportions for your face. Using the Vectra 3D imaging system, Dr. Hall will help you decide what options are best for achieving your aesthetic goals. Once you've agreed on your treatment plan, your procedure can be scheduled.
The procedure is performed in an outpatient surgical center and you'll be able to return home the very same day. After your procedure, you'll be given cooling packs to apply to your chin and neck area to minimize discomfort and reduce swelling as you recover.
If you are ready to correct your double chin, contact chin surgery expert, Dr. Jason Hall at (865) 973-9500 to schedule your Knoxville Plastic Surgery consultation today!